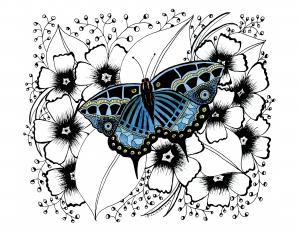 Billinda Brandli DeVillez has published her pen and ink drawing "Blue Butterfly" in the Summer 2012 issue of Fine Lines Journal. The delicate-and-detailed butterfly drawing accompanies her husband Randy's nonfiction piece about being an artist, entitled "Coloring Outside the Lines." Prints and note cards featuring the butterfly, some simply black ink, others with a splash of blue watercolor, have been popular items with browsers and patrons of her art.

Billinda is an artist who works with pen and ink, watercolor, and acrylics. Her art is on display in several venues in central Illinois, particularly The Spice of Life on 6th Street in downtown Springfield. A selection of her art is also available for viewing and purchase at
www.billinda-brandli-devillez.artistwebsites.com

Billinda and her husband Randy pursue individual interests in the arts, but often collaborate. Currently, they are working on a book manuscript of art and writing.